Hi folks!

So, what better way to kick off my little blog than to write about a cool little phone called the Nokia N95 8GB. A mouthful maybe, but it accurately describes what it is. An N95 with an 8GB memory.

After a lengthy wait, I finally got my greasy hands on a N95 8GB prototype. It's a "build-4" version. There will be one more "build-5" version before the final CE is released, so it's pretty near to what you'll get in the shops. Actually, by the time you read this, it will be in the shops.

The N95 8GB is nearly identical to the regular N95 except for a few things:
1) Bigger screen
2) 8GB built-in memory
3) Revised user interface
4) No more slider to turn on the camera
5) A-GPS (Assisted GPS) which basically means the GPS is faster
6) It's black



Here's an all round view of the phone:




Front view






Back view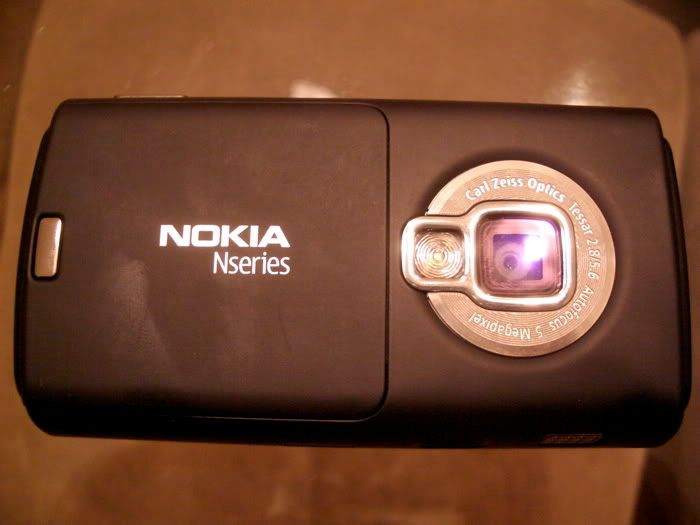 Left side view






Right side view





Top view






Bottom view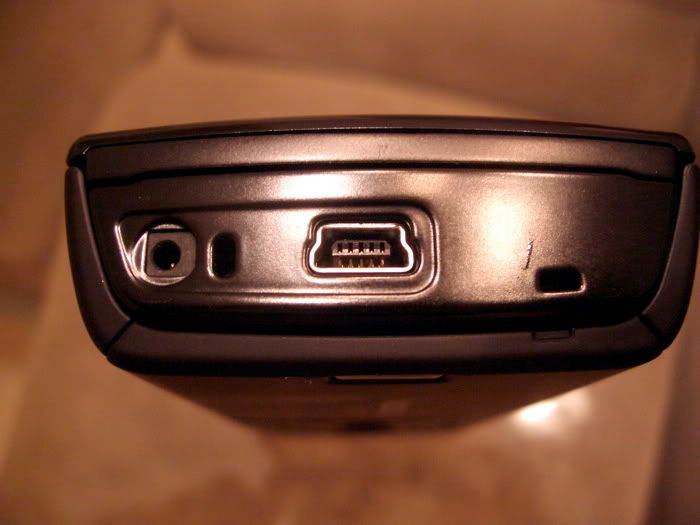 Here are a few pics of the N95 and the N95 8GB side by side. In real life, the N95 8GB is actually very slightly smaller than the N95. Weight is almost identical (128g vs 124g).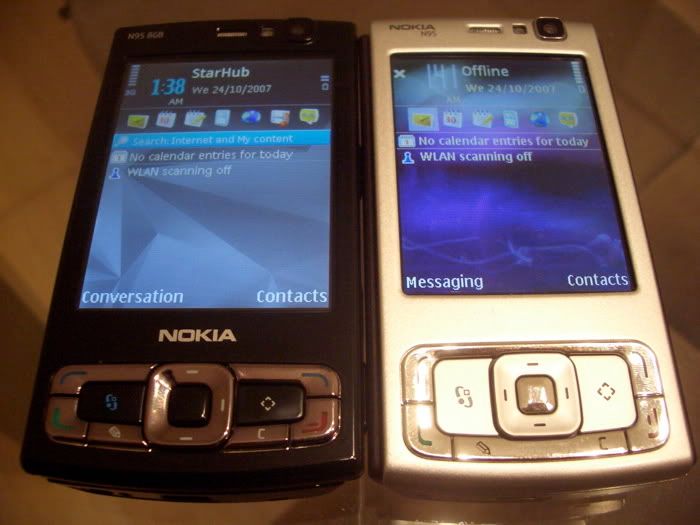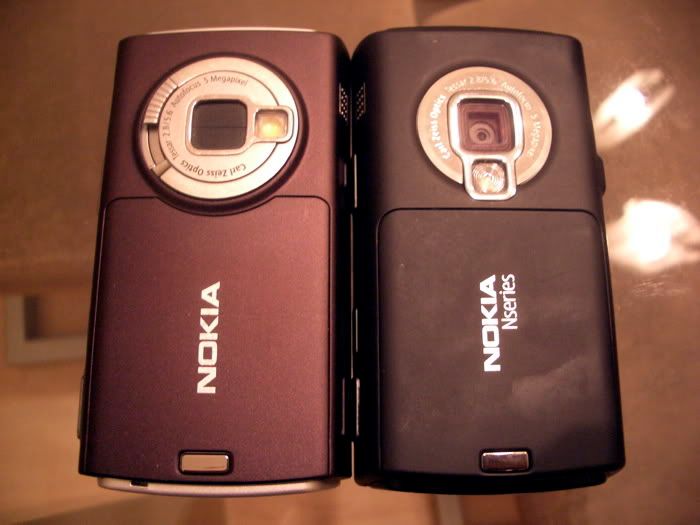 As the hardware/software is almost identical, I won't go through the functions/protocols of the phone as everyone would already know them well by now. I'll just point out a few things that I feel are the biggest differences between the 2 devices.

1) Build quality - the N95 8GB seems to be a lot better built than the N95. It's like the difference between the interior fittings of a Hyundai accent and a Mercedes E class. All the keys now feel very well damped. They are very pleasant to press on and give you a feeling of "expensiveness". My prototype I received is a well-used one from Europe. When I got it, it still had many pictures of the previous owner which were mostly of his ski trip in Sweden, so I know it's been properly used.

It still feels tight. The wobbly feeling which is typical of a used N95 is absent. When you press on the keys, it's tight and has no unnecessary movement.

2) The screen - it's noticeably larger and is more pleasant to look at despite the fact that they have exactly the same OMAP 2420 graphics chip (thanks to Agaas and heineken702 of symbianfreak.com for pointing out my earlier misleading info). Resolution remains identical to the old N95. So the only real difference is there is more screen real estate.

3) User-interface - a few things are different.

Instead of 6 active standby icons, the N95 8GB can now squeeze one more icon across the screen, making it 7 active standby icons in total.

The search function is permanently active on the desktop. At first it irritated me, but I soon realised that it's fantastic. It's extremely easy to look for stuff now, necessary when you have 8GB of memory at your disposal. It works similarly to the "Finder" of Apple's Tiger interface. I love it!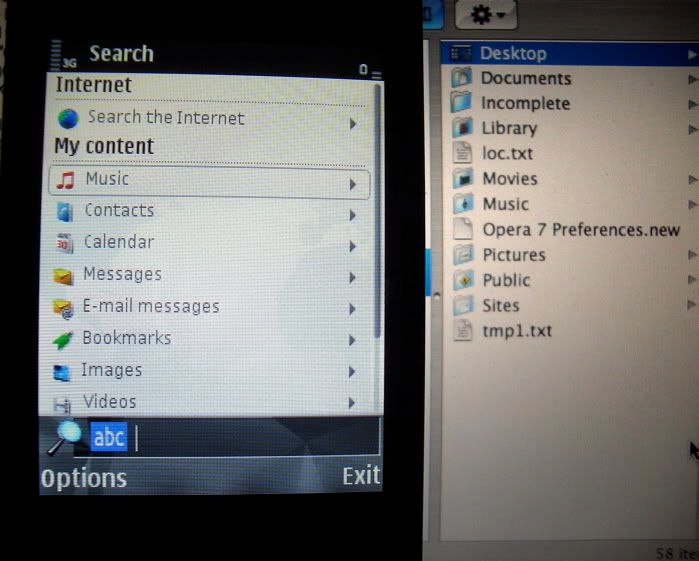 4) It plays N-gage format games. My set came loaded with a few demo N-gage games and although I'm not a gamer, they felt fantastic to play. The graphics are seriously nice.

Here are a couple of pictures I took of the screen with just my digital camera. You can imagine how good it looks in real life!








5) No more tacky BLUE lights! They are now cool white, which I feel look so much better.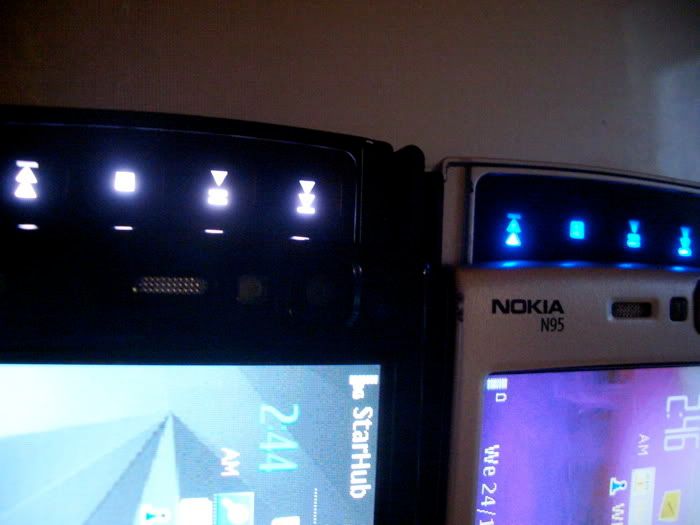 6) No more customisable multi-media menu. BOO! In the N95, the multi-media menu is fully customisable. You can add any application to it and select the application you want by just rotating around the menu. No more. Press the muti-media menu key on the N95 8GB and all you'll see is this:





You cannot add anything to it, which I find to be quite pointless in having the menu now. In the multi-media menu, the sub menus include "Gallery", "Music", Videos", "Games", "Contacts", "Internet" and "Maps". Within these sun menus are convenient shortcuts which are good for the specific application. This is all well and good for those particular applications that are included. But what if I want to include "Bluetooth" or "Clock" or "Converter" or whatever else I want in this menu that I find I use all the time? There's no way to to do it. A big step backwards in my opinion.



7) The slider that turns on/off the camera is gone. Some people might protest, but I really don't miss it at all. The camera in the N95 always gets accidentally turned on but in the N95 8GB, this won't happen anymore. To turn on the camera, simply do a long press on the shutter button. Simple, effective and not prone to accidental activation.

8) The battery is of a higher rating. Although mine came with a N95 battery (BL-5F), the production N95 8GB will come with a better 1200mA BL-6F battery. Hopefully, this will help in providing better battery life than the N95.

9) No more memory card slot. No big deal as you plenty built-in.






After 6 hours of use, that's all I can think of. Generally speaking, it's a nicer device to use. Whether it's worth upgrading to from a N95, it really depends on what's important to you. If you value a more refined user interface, much more memory, bigger screen real estate, faster GPS and probably better battery life, go for it. Functionally they are virtually the same. There's nothing you can't do with a N95 that the N95 8GB can, except of course carry a huge amount of data.

I'll update again if I have any additional thoughts.