Hi folks! Quite some time ago, before it was in the stores, I received a Nokia E90 communicator prototye for testing. Although the the phone is no longer new and the novelty has worn off, I'll still do a review for people who are still thinking about this phone.


As soon as I got it, I transferred all my stuff from my E61i via bluetooth. A very simple process if you have multiple Nokia phones.







There's a special place in my heart for the Communicator series from Nokia as I used a 9110 many years ago while I was studying in Australia and I absolutely loved it. It proved to be indispensable in school. So I'm gonna spend some time and write a deeper review for this phone.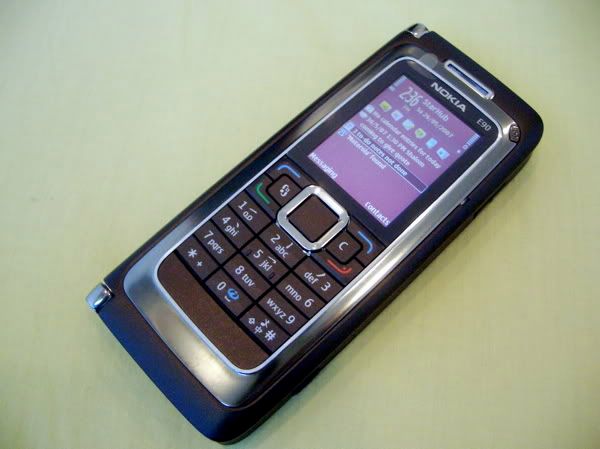 After my 9110, I moved on to Palm Treos mainly because the Communicator series were always compromised in some area when compared with their smaller cousins from Nokia. But not anymore. This is the one I've been waiting for all these years. Let me explain why.

The form factor:

Many people have the impression that Communicators are big chunky bricks. Well, it is still a brick, but this time round, it is a stylish one. It's not as big as you think. Here is a comparison between the the E90 and it's N series cousins:







As you can see, it's actually not much bigger than your regular phone. The only thing is stands out is it's weight. At 210g, it is rather heavy. But hey, this is the mother of all phones, and not a toy. To me, it's looks pretty good for a brick. It's all black with shiny silver frame surrounding the display and the black keypad, chrome rocker key and large and very solid metal hinges. The whole device is solid and tight, and feels very well put together. It doesn't feel like it will fall apart anytime soon.






As with all Commuicators, this one has 2 screens. The outer screen is QVGA (240x320 pixels, 16 million colors) and the physical dimensions are 30x40 mm. Unlike previous Communicators, the external screen is no longer a simple cover that only has access to a few simple functions. For the first time, it has FULL functionality. Whatever you can see and do on the big screen inside, you can do with the external screen. This has finally happened after so long. For geeky people like me, this is big news!









Right below the external screen, there are two soft keys, menu and "C" buttons, the usual Green/Red Send and End buttons and a 5-way rocker in the centre. The 5-way rocker button consists of a chrome frame and a large black central button, much like an E61i. It works extremely well, much better than an N95.





The Power button located on the top right hand corner of the front of the phone serves slightly different functions from previous Communicators. When you power off now, it turns off the whole phone, including the internal screen, unlike before where the internal screen is always active when you open the clamshell. To use the PDA functions while the phone is off, you have to select "Offline" mode now. Wifi and bluetooth will still work in this mode.





A quick look at the bottom of the phone reveals a mini USB 2.0 port, 2.5mm headpone connector (boo! should be 3.5mm!) and charger connector. The micro SD card slot is right below these set of connectors.




On the right side of the phone, you can find the voice recorder button, camera button and and an infra red port.



At the back of the phone, you can see a 3 mega-pixel autofocus camera module with LED flash and a pair of stereo speakers. Of course most of the back is occpied by the battery cover.





Speaking about batteries, this one is definitely worth a special mention. It's a 1500mAh battery (BP-4L), the same one found in the E61i. I used the phone heavily for a day and it didn't even make a dent in the battery level indicator! You definitely don't have worry about running out of juice within a day if you charge your phone everyday. It's rated at 14 days standby and 5 hours talktime. Also, unlike previous Communicators, taking out the battery is a simple affair now, not requiring any special tool. Simply slide it out.





What this thing is built for:

Opening up the device reveals what this thing is all about. The HUGE, GORGEOUS SCREEN and the full sized QWERTY keyboard.





Let's talk about the screen first. The resolution is 800x352 pixels (24-bit, 16.7 million colours). It measures 90x40mm. This screen is is perfect for watching widescreen movies and more importantly, surfing the internet. It's a lot better than surfing on say an N95. You can see a lot of a web page and need to do a lot less scrolling. Editing documents is also a pleasure. It will beat any Windows Mobile device in this aspect.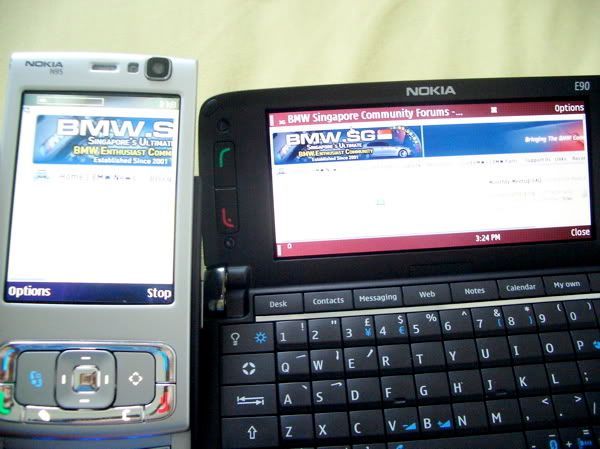 The quality of the display is in a word: STUNNING! It is hands down the best phone display I have ever seen. The size, sharpness, clarity is beyond good. Even under bright sunlight, the readability is excellent due to the matte screen (anti-reflective coating). I will buy this phone just for the screen.

Moving on to the keyboard, again, it's one of the best in the business. The keys are large enough to be used seriously. The top of the keys are just a bit convex and falls away at the sides that leaves you in no doubt where the keys begin and end. The main letters and digits keys sit at a slightly higher level than the keys at the sides making it even better to use. The enter and delete keys are very large, there is no way you can miss them.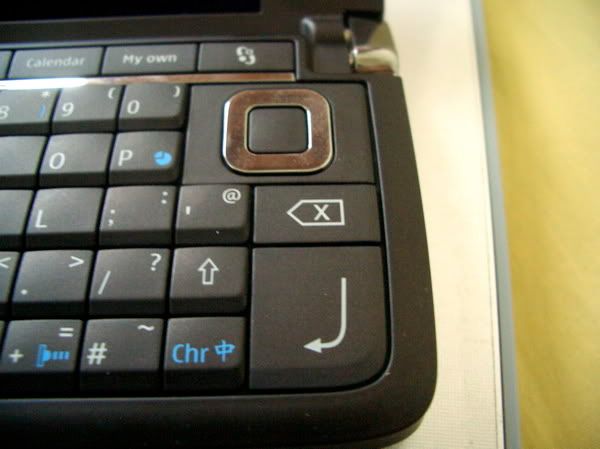 The feel of the keyboard is extremely good. If you have used any of the old Communicators, expect this one to be MUCH better. But the best thing is: the keyboard is finally backlit! And you can turn the back lighting on and off easily with the big button with the bulb sign.




There are many dedicated buttons and teamed together with the S60 software, you can configure this phone to be extremely efficient in terms of getting to what you want with just 1 click. Hardware buttons have access to Desk, Contacts, Messaging, Web, Notes, Calendar, TWO configurable "My Own" buttons, Bluetooth on/off, Infrared, Multimedia volume and call volume control and Profiles. Leaving the EIGHT S60 active standby menu for other things! Talk about customising.




The first thing I don't like about the E90: the 5-way rocker key. It feels slightly awkward to use as the travel of the outer silver ring is a bit too shallow, making you tend to accidentally press the middle select button a lot. With no arrow keys, this is the only way to move around the screen. Hopefully, Nokia will get it right by the time this phone is released. The silver outer ring just needs to travel a bit more and it'll be perfect. But it's gonna be a tough feat to achieve due to space constraints. Any higher it might hit that gorgeous screen.

Opening up the clamshell, you will notice 2 indents where the screen clicks into place, One is at about 90 degrees and the other at 180 degrees (flat like a book). However, the screen will lock securely in place at any angle you wish. No worries about toppling the phone over when setting the screen angle at more than 90 degrees and the keyboard section of the phone is is much heavier than the screen part. The shiny, heavy duty hinges are very strong and sturdy and feel like they will last a long time.





So how does it perform?

To sum it up, it is BLAZING! Despite being a prototype, this Symbian device is hands down the fastest I have ever used. People who have been using the N95, E61 or even the E61i and think that the response is decent for a Symbian device, you ain't seen nothin' yet! Press and things happen at once! Not quite as quick as an old school Palm device, but close. For a phone that can do so many things, it's amazing.

The processor running the E90 is the same one as the one in the N95 and N93/N93i. But take it from me, it responds much faster than any N series phones. It is a TI OMAP2420 processor (ARM11 architecture) running at 330 MHz. Things can only get better by the time it goes on sale.

Another thing that's very important is, the E90 has 128 MB of RAM, and 80 MB of it is free. That makes it the Symbian device with the largest amount of free RAM in the market. What this translates to is fantastic multi-tasking capabilities. You can use GPS, edit a word document, surf the net, listen to music, type an SMS, make a phone call, view a large PDF document and look at pictures all at the same time without the E90 giving so much as a blink!

The supplied internal memory capacity is 136 MB, of which 128 MB is free. On top of that, it supports micro SD cards of up to 2GB capacity.

Connectivity:

This phone has the kitchen sink thrown inside, breaking the tradition of compromise in the Communicator series. It used to be that the most up to date connectivity mediums were always omitted in Communicators and not anymore. Try this on for size: It not only supports GPRS/EDGE (Class A, MSC 32) and UMTS but also HSDPA with transfer speed up to 3.6 Mbps making the E90 a 3.5G device. UMTS/HSDPA support (and the secondary VGA camera) also mean that video calls and IP telephony are finally possible. The E90 is also a quad-band GSM (850/900/1800/1900 MHz) and WCDMA 2100 MHz device.

WiFi protocol is 802.11 b/g (up to 54 Mbps) and UPnP (Universal Plug and Play). Bluetooth 2.0 EDR implementation on the E90 is now faster and includes A2DP (Advanced Audio Distribution Profile) support providing compatibility with stereo bluetooth headsets. USB 2.0 via Mini USB port provides mass storage support with drag and drop desktop functionality.

Another breakthrough with the E90 is that it is the 1st ever Communicator with a built-in GPS receiver. Although no specs of the GPS module is available, it is supposed to be the same one as the N95. But performance wise, I can tell you it is better than the N95. It acquires signals faster and clings on to them more strongly than the N95 GPS. Coupled with the huge screen, it is actually a joy to use. Problem is that it is difficult to find a way to mount it in a vehicle for navigation purposes due to the weight and the necessity for the screen to be flipped open. But I'm sure Nokia will come up with a solution.

There's a driving game out there that even uses the GPS to determine where you are in the world and direct you to the nearest race track. What will they think of next?

Also another break in the tradition of the Communicator series is the EXCLUSION of fax. This will no doubt stir up unpleasant emotions in long time Communicator users. It used to be that the Communicator offered the simplest and most effective way of sending and receiving faxes on the move. And now, it can't even do it. Doesn't matter to me as I'd rather use email.

A small thing, but definitely worth mentioning: the E90 is the first Communicator with vibrating alarm! Feels good and strong despite the size and weight of the device.

Operating system and software:

The E90 uses the S60 3rd edition Feature Pack 1 platform running Symbian OS 9.2. Why Nokia chose to dump S80 is quite logical. Symbian OS 9.x has many fundamental changes with much improvements. These changes means no backward compatibility is possible with pre OS 9 devices. To make the E90 run S80 (which many people like), it would cost too much to develop a special platform to do that on OS 9.x. So, stay with S80 running on pre OS 9 and live with yesterday's mobile technologies or dump S80 and go with S60 and recycle their R&D already dumped into the N series and get the latest bells and whistles? It's a no brainer. Also the S60 already has a mature 3rd party developer support market.

Anyone who has used an N series will know roughly how the E90 interface looks like. I don't have to elaborate on this as it is pretty similar in terms of function. And just like any S60 phone, it's fully customisable in terms of appearance. Just download themes that are freely available on the web and install them. Just a little note to say that due to the internal screen's resolution, certain existing S60 themes that are unscalable will not look good.




All the usual funtions like contact, calendar..etc work as per any S60 phone (newer N series) except that they are now further refined and improved.





Mutimedia:

So Nokia has finally realised that business people also need entertainment. About time! The E90 has very decent mutimedia capabilities.

Hardware wise, it includes a 3.2 megapixel autofocus camera with LED flash. I do not have the detailed specs of the camera, but judging from the pictures taken with it, it's as good as the camera found in the N73, which is pretty decent. The secondary camera on the inside of the phone is mainly for video calls. Nothing worth mentioning here.

Here are some pics taken with the E90. All taken on auto mode except the last one taken with close-up mode:





The E90 has 2 speakers at the back that reproduce sounds in stereo, although their positions negate any true stereo effect. They're positioned too close together. But the speakers are simply awesome. I used to say that the N76 speakers are the finest mobile phone speakers I've heard (not in terms of volume, but in terms of quality). Well, not anymore. The E90 speakers are much better than those of the N76's. It's to be expected, due to the large size of the device.

Also included, like all N series phone, is an FM receiver. As usual, you need to plug in the headset to use it.

The E90 records video clips in MPEG-4 format with AAC audio (48 kHz mono). Max supported quality is VGA (640x480 pixels), 25 frames per second (PAL). Video stabilisation is included. Video quality is decent.


The music player is the same one found on most S60 smartphones. It has a music library that lets you organise your music by artists, albums, playlists, genres and composers. The Equaliser lets you choose from predefined settings (None, Bass booster, Classic, Jazz, Pop, Rock) or create your own.

I won't go into any more of the functions as most people should already be familiar with the S60 platform.

Conclusions:

Despite being a prototype, it's already the best Symbian phone I have ever used. That huge, wide screen is simply jaw droppingly good. The speed of the interface is extremely quick for a such a device. Both the QWERTY and alpha numeric keypads work very well. Hardware quality is right at the top as expected of a flagship device from Nokia.

There is every conceivable connectivity option making this phone relevant even in times to come. Lots of RAM means effective multi tasking. USB 2.0 and stereo streaming bluetooth are very nice touches. Built-in GPS, very decent 3.2 megapixel camera with video capabilities, wifi as fast as my laptop. Excellent ergonomics.

All the above points make this a very powerful device. I hope by the time Nokia releases the E90, the internal 5-way switch and the camera shutter button can be improved.

This is the one everyone has been waiting for all these years. If you ask the question, "why don't I just get the N95 instead since it's smaller, just as powerful and comes with a better camera?", then you don't understand this device and it is not for you. But for people who see the point, the time has come.